About Educov Project
EDUCOV project idea from six different countries will bring with them the knowledge and experience of their countries and work in the field of digital competence education and continuous support to schools and other educational institutions
DIGITAL TECHNOLOGY
AS TOOL FOR SUCCESS
Children of today have been surrounded by digital technology since their birth. However, parents and schools of today are not equally equipped for their technology-rich future. Schools and the education of children should undergo an extensive digital transformation to be able to meet the needs of the young generation and their digitized future. The COVID-19 pandemic has suddenly and abruptly forced schools and education indeed to engage in such a transformation.
READ OPINION PAPER
BROCHURES FOR TEACHERS AND PARENTS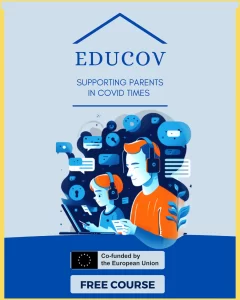 The presence of pandemic
This growing concern and pandemic restrictions motivated the EDUCOV Project. The COVID-19 pandemic forced us to take an extraordinary digital leap in the primary education of children, that requires significant adjustments not only from children and their teachers but also from their parents. Teachers had to take the lead in this sudden, unexpected digital transformation of children's primary education, without being well prepared for it, while having to support parents as well in this endeavor, who suddenly had to possess a variety of skills, competencies, and resources,
Our Goals
Our overall goal is to help parents understand the process of eLearning at home and acquire the needed skills to be able to support their kids at home.
Schools primary function
While schools' primary function is to create an environment that stimulates lifelong learners using meaningful technology, parents are struggling to cope with the pace of the technology and e-learning methods developed.
Awareness
Parents are not aware that they are part of the educational triangle teacher-student-parent, and they need to work hand in hand with the teacher of their children. The focus point is not just how teachers can help parents to acquire required ICT skills, but also learn effective methods to gain the trust of parents and give them credits as essential members of child education.
ACTIVITIES
Our intervention approach will be defined by the following activities:
Developing the Parents educational program EDUCOV with established experts in the fields of both education and IT for parents education to understand their role in home education and help them acquire needed skills
Creating the guide books for parents and teachers since many parents still prefer the printed version of the guides
Developing Teacher training program EDUCOV to be able to educate parents on how to be a supportive member of their online teaching
Development of innovative eLearning resource for learning, supporting, and encouragement of the home education
TARGET GROUPS
The EDUCOV Project focuses on two specific target groups:
1
Parents who are lacking digital skills to support their children's education
2
Teachers who need to develop ICT skills and new educational tools for e-learning, to help and support parents with e-learning
The target groups are expected to develop the following competencies and skills throughout the EDUCOV project:
Awareness of the educational triangle teacher-pupil-parents for the successful education of their children
Sufficient knowledge of IT, a basic understanding of pedagogy;
Practical usage of ICT skills and meaningful technology
Furthering and strengthening their digital competencies
Social and pedagogical competences
Acquiring a set of tools to support online lectures
Time management and stress management skills for the parents – they will be able to better: day-to-day plan activities, follow-up on the progress of the tasks, putting the right priorities, and reach out to the expected outcomes.
Number and profile of participants
Seven partners gathered around the EDUCOV project idea from six different countries will bring with them the knowledge and experience of their countries and work in the field of digital competence education and continuous support to schools and other educational institutions. Education will be held across 21 schools in partner countries, and it will involve 840 parents in surveys and 315 parents for pilot training, as well as 210 teachers. Implementation groups of teachers/country promoters will test the train-the-trainer and develop a program on LTT (14 teachers), where they will learn the skills needed to successfully and adequately educate and support parents.
Results and long-term benefits:
Impacting on the development and improvement of the digital competencies of parents
Improved lifestyle and facilitated support to students in overcoming learning difficulties
Significantly reduced the possibility for the presence of stress in parents due to lack of IT competencies
Focusing on the positive side of life instead of dwelling on problems
The training program will be available to all parents in schools in Europe with examples of good practice
A guidebook will also be available to all schools, teachers, and parents, and will facilitate future work.
DOWNLOAD AND READ OUR NEWSLETTER